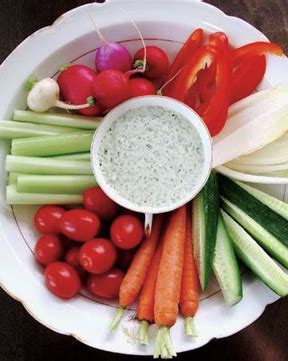 It's recently come to my attention… that I love ranch dip! (watch the video at the end to catch the voice I'm referencing 😉)
My husband and I have been exploring Low Carb High Fat (LCHF aka Keto) diet for awhile now, and this is a nice way to spice up some crudités. It can also be mixed into a salad, or any other dish for that matter.
Here's my take on the classic. It turns out the keynote savory flavor comes from the onion powder… kinda obvious but wasn't something in my repertoire until now. So that's how they make Cool Ranch Doritos 😆.
Easy Ranch Dip
Ingredients:
16 oz sour cream (Strauss is my fave because the cows are my neighbors)
1 tsp salt
1/2 tsp black pepper
1/2 tsp dried parsley
1/2 tsp dried dill
1/2 tsp onion powder
Tzujz it up with these optional ingredients:
1/2 tsp Takii umami mushroom powder (alternatively, try white miso paste)
1/4 tsp garlic powder (I can't stand the taste lingering hours later, but you do you)
1/2 tsp paprika (gives nice color and a little extra flavor)
1 tsp buttermilk powder (for that classic farmhouse taste)
Add the spices into the container and stir with a fork. It's that easy! If your onion powder has clumps, or your salt is coarse, you can let it dissolve a bit and stir again 5 minutes later.
If you want salad dressing instead of dip, you can cut it with your choice of buttermilk, yogurt, and water.